TREMOLO
For the longest time, Michael McAdam has been a sideman, a session player, and a band director for some of roots music's best voices – from Steve Earle to Mary Chapin Carpenter to Radney Foster and many more. If Rolodexes were still around, his name would be the most worn-out card; always being pulled out for projects. So, after years of playing with others, one solo release from about 15 years ago, McAdam is ready to release his second solo effort, Tremolo.
Written and recorded throughout the past couple of years at Silvertone Recording Service, Mike called up some of his friends to come to help him out, like Jack Irwin, Garry Tallent, and Kim Richey.
This album has ten songs; two are covers and eight are originals about people, places and things. It's good. No, it's really good. It sounds like what Americana is supposed to sound like. Jangly guitars with some tremolo – shiny and shimmering.
SONG BY SONG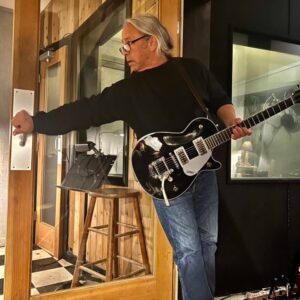 My Little Queenie (3:59) – Another song about the mistakes we make and the "one that got away." The video for this was shot in my hometown of Richmond, VA
A Northern Girl (2:58) – I've spent a lot of time touring the UK and Ireland over the years, lots of small theaters, festivals and pubs. It's no secret that some Londoners and others in the south look upon northerners with a condescending manner, calling them "scousers" and such. It's much like some northerners in the states look at southerners here, thinking them to be less sophisticated. To an American, it's "the further north you go, the further south you get." Any Fab Four references are purely intentional and probably obvious.
Kingdom Come (4:32) – Wrote this one many years ago about the loss of a dear friend.
Venus (4:20) – Written almost entirely by a great singer songwriter friend, Jana Light. I played on her original version which was produced by the late, great Belfast artist, Bap Kennedy. I changed a few of the lyrics and helped arrange the original recording. Background vocals are those of the wonderful Kim Richey.
Don't Make Promises (3:51) – I loved Tim Hardin's songwriting. He was deep and a troubled soul.
Hand On The Trigger (3:53) – My old pal and great drummer, David Eggleston, plays on this one. His son, James Davy Eggleston, and I wrote this one.
I'm Free (2:57) – The flip side of "Get Off of My Cloud." I always liked this song. Not very politically correct, but the Rolling Stones always get a complimentary pass.
Little Places (3:02) – When I was a teenager we used to like to drive out of the city, past the suburbs, to take in the beauty and freedom of the countryside. We usually had a few six packs and something to smoke with us, so it was way less risky out there where there were no cops to be found. Of course what was rural and beautiful then is now shopping malls, office buildings and McMansions. Just the way it goes, I suppose.
Allentown (3:49) – I play Key West, FL a lot with my own band and got to know many locals; most of whom came from somewhere up north. Many came south to escape something back home, whether it be a spouse, ex-lover, the weather, the law, a dead-end job or lack of one. Many just wanted to be somewhere where the party never ends. Some just drove as far south as their car would go. The protagonist in the song is escaping an abusive relationship in a town that isn't offering her much of a future. Oh, and she steals her boyfriend's credit card before she sneaks out the door. This track features a sort of Good Humor Band reunion with Gregg Wetzel, Bruce Bouton and Jack Irwin, along with Garry Tallent on bass.
Chuck's Mood (4:35) – I was playing a bar gig in Key West and things were a little slow. I started playing this riff and the band fell in and it sounded pretty good. A pal, Chuck, from my old Richmond neighborhood appeared in front of the stage so we named it "Chuck's Tune" on the spot. Kind of inspired by Miles Davis and an old Junior Walker instrumental called "Cleo's Mood," but mostly inspired by Roy Buchanan's wistful guitar stylings.
A MILLION MILES – THE FIRST CD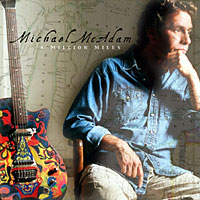 On Mike's first solo CD he makes it clear that he's absorbed a wealth of songwriting knowledge from the many artists with whom he's played guitar. Ten insightful, sometimes rollicking, self-penned songs. The one cover on the album is a glorious slide guitar version of The Lion Sleeps Tonight, which will quench the thirst of guitar groupies everywhere. Showing a range of influences from The Beatles to Burt Bacharach to Tom Waits, the album moves from one strong song to the next. Of course there are plenty of tasty guitar moments on the disc, but the album rests firmly on the shoulders of its powerful, imaginative songs.